Today is disembarkation day on Le Soleal. Captain Le Rouzic announced yesterday that we are scheduled to arrive in Juneau, Alaska at 10am on 6 July 2019. This makes us about 4 hours behind schedule, with about 60% of the passengers due to depart on the first charter flight of the afternoon, at about 1:30pm. My flight is the second charter/commercial flight at 4:15pm, so we're going to be loaded onto buses for lunch.
It's been a foggy crossing of the Gulf of Alaska, with Juneau suffering from smog from forest fires as well as Seward. It is unseasonably hot in Juneau, with a forecast top of 28 degrees for this afternoon. It looks like my destination, Seattle will be around 8 degrees cooler for our arrival.
It's a full house in the port of Juneau, with about 6 cruise ships of various sizes in port. Crystal Symphony, Island Princess, National Geographic Sea Lion, Silversea Silver Muse, Carnival Legend, and our own Le Soleal are all in for the day. Juneau is only a small city, so you have to wonder what an extra 4000 or so people do.
In our case, the buses with the passengers on the later flight head for a view of a very smoke-swathed glacier, and then to an outdoor restaurant that offers a 'salmon bake'. It seems to cater for the cruise ship crowd, as there is a board up that has the 'all aboard' times for the larger cruise ships in port. The food is sugary, even the glaze for the salmon tastes of sugar. The only redeeming feature for this restaurant is that there is a nice, albeit small, waterfall 100m from the seating area.
The bus driver is doubling as a local Juneau guide, and trying to speak French with a very broad Alaskan-American accent. He'd be better off speaking English, but he perseveres for the drive around.
The charter flight at Juneau airport is looking like a standard commercial flight – with the usual US luggage charges. According to the Ponant paperwork, we should receive 1 free checked bag, but the check-in kiosks are charging $30 plus $40 for an additional bag. The TSA is out in force, with the full-body scanner showing a tiny suspect area at the base of the zipper of my trousers. Which would be the metal base of the zipper to any logical person. I get the full service groin pat-down, followed by a chemical spot test. Now I remember why I avoid travelling through the U.S.
The 'charter' flight is a standard commercial flight from Juneau that Ponant has purchased seats on. The flight attendants do their best to encourage passengers to board according to the group letter (A through D for coach), and for them to stand back to allow the correct group to board, but as usual it's a zoo. Overhead bag space is completely full by the time my group boards, so my bag is under the seat. The good news is that it is a 2 hour flight from Juneau to Seattle, with a time change (forward) of one hour, and that Alaska Air has surprisingly good legroom in coach/economy. Quite a nice view out of the plane window of snow-capped peaks and glaciers.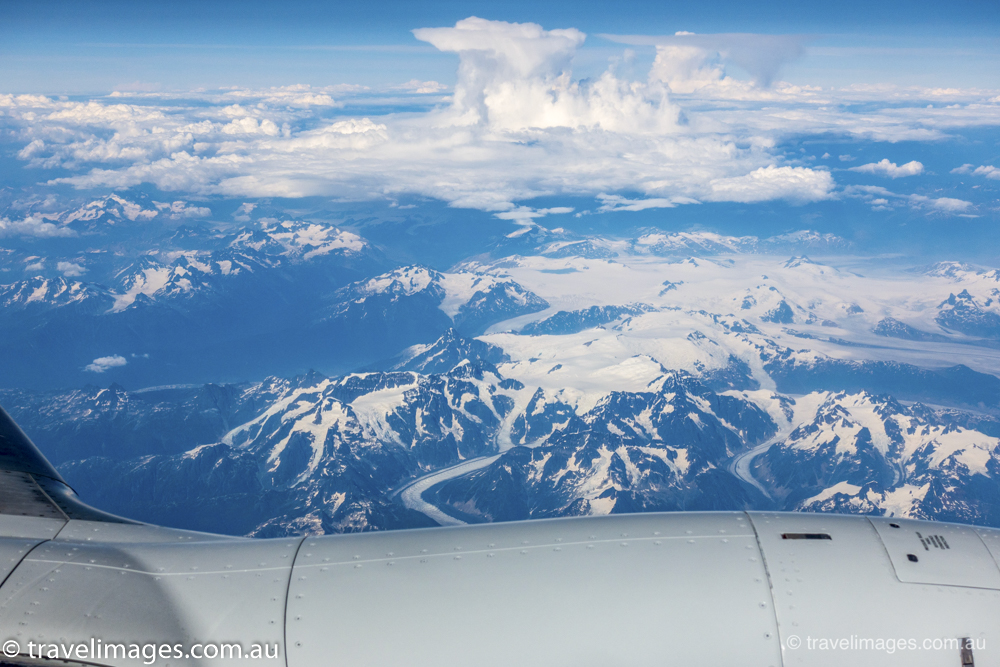 Disembarking Le Soleal in Juneau and flying to Seattle has taken all day – it is 7:40pm in Seattle on arrival on a Saturday night. Baggage claim at SeaTac airport is interesting – it's an airport train from the gate that we land at to the baggage carousels and a 10 minute wait or so at the carousels for baggage to start arriving.
The airport train service is called "Link Light Rail", and tickets can be purchased through the Transit GO app. It's $US3 from the airport to University St station, which is a 4min walk from my hotel. Bus, monorail, streetcar, water taxi and other train tickets can be purchased through the app, so it's a convenient option for getting around Seattle. Unfortunately the escalators that I want to use at University St Station are under maintenance, so it's a walk to the other end of the station with luggage. It also turns out to be a steep walk uphill to the Hilton Seattle from this station, only 4 blocks, but just as well I'm fit enough to manage a backpack and two smallish rolling bags uphill.
The Hilton Seattle is under renovation, and I've been allocated a 'refurbished' room. I've also signed up for their "Digital Key", which should mean bypassing the front desk and being able to go straight to my room. The digital key doesn't work, and the doorman helping with my bags comments that the refurb has meant some issues with the Bluetooth service that operates the door locks. So it's back to the front desk for keycard. The digital key doesn't work on the doorlock at all during my two night stay.
The refurbished room is all neutral colours, with a new HD TV, comfortable bed and functional bathroom. It has some annoying design 'features', being the old fashioned shower curtain over a half-sized bath – it would have been better to just install a decent sized shower with better lighting. The windows are in three joined sections, with a blackout blind and privacy blind on each section. They are chain operated and noisy – that's six blinds to open and close, and I can hear my neighbours in the next room when they are opening and closing their blinds. A really poor design choice given what's available on the market. As a Hilton Diamond member, the only benefit seems to be breakfast in the "executive lounge", which given the refurb is the shared lounge on the lobby level, and two bottles of water for the entire stay. Not particularly impressive given I sleep through Sunday morning's breakfast (which only runs until 10am), and will be gone before breakfast on Monday morning.
My only fixed plan for Seattle is to visit the Boeing factory for the Future of Flight tour, which I've pre-purchased a ticket for, which is booked for tomorrow.