Today's itinerary takes us to Adak and Atka Islands.
Adak Island
Adak Island is the destination for an early morning landing. The weather has improved since yesterday evening, it isn't raining, although still grey and overcast. 
There is a choice of a hard hike with 250 degrees of elevation through boggy marsh-like terrain, or a waterfall accessible from a nearby rocky beach.
Le Soleal passed a spectacular waterfall falling down cliffs to the sea yesterday that was barely visible in the misty rain, so today it's time for some waterfall photos. There is also some endemic ferns and some delicate flowers.
I also manage to visit the other beach that the hikers left from, and can see a line of them halfway up the ridge.
The highlight of the morning though is on a slow zodiac ride back to Le Soleal, where the first bald-headed eagle is seen high up on the grassy slopes, surveying its domain. There are also four harlequin ducks, two males with beautiful markings, and two more soberly attired females.
We depart Adak Island by cruising down the strait between Adak Island and Kegalaska Island, where it is windy, but with great views of Kegalaska Island and its pyramid-like volcanic vents.
Atka Island
This afternoon is an unplanned landing at Atka Island as Captain Le Rouzic has decided that we have enough time to visit it before heading to Dutch Harbor. It will only be a short landing to wander on a rocky beach. The weather is still holding up on our arrival – the wind is 22 knots, but calm on the shore. A small ocean-going vessel is anchored in front of the beach, no doubt thrilled by the arrival of Le Soleal.
From the bridge, reindeer can be seen, as can an arctic fox, which disappears quickly once the ship approaches. The reindeer seem unfazed by the ship, but beat a hasty retreat once the zodiacs approach the beach. Considerable debate ensues as to whether they are reindeer or caribou, with Captain Jay (the Alaskan pilot) having the deciding say that they are the descendants of imported reindeer.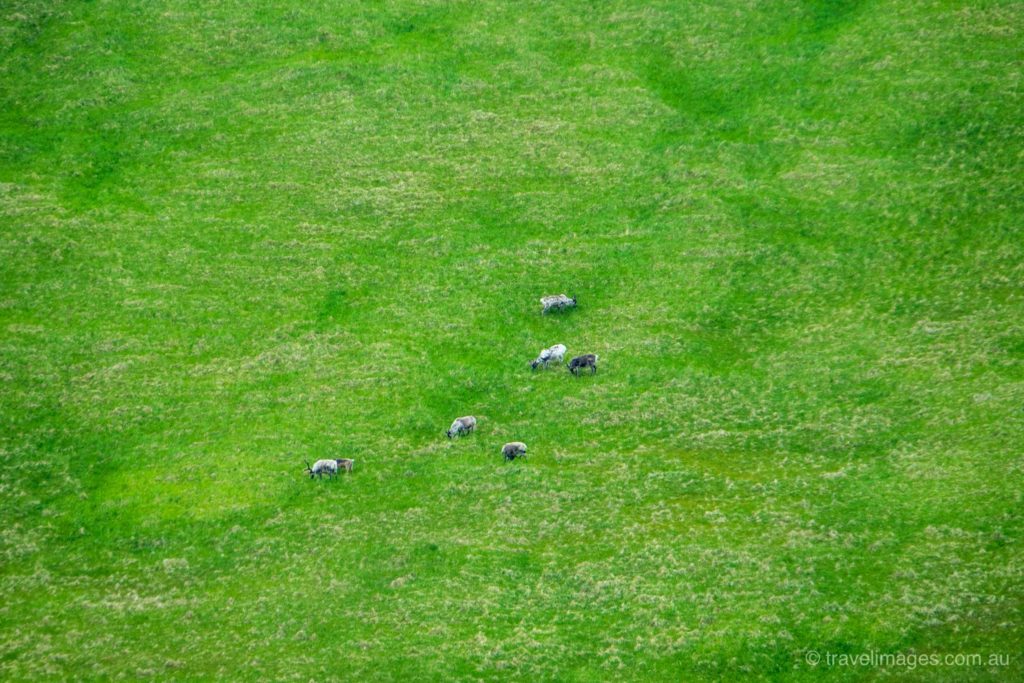 There is a narrow rocky beach that leads up onto a marshy valley, with a deliberately crashed B-24D Liberator aircraft in the centre of it – a relic from 1942. There is still debris from the crash scattered around the valley, and the aircraft itself is best described as 'derelict'. The aircraft was flying on weather reconnaissance duty when it was prevented from landing at other airfields due to poor weather, and was forced to ditch in the open valley on Atka Island. The pilot walked away from the crash with a broken collarbone. 
It is still light at 10:15pm when Captain Le Rouzic broadcasts from the bridge that the Korovin Volcano is visible on the starboard side of the ship. He must be close to having put in a 17-hour day so far, but is still encouraging everyone to admire this archetypal conical volcano that is merely a "side vent" to the main Atka shield volcano. Korovin (also known as Mount Atka) is a stratovolcano and a picture-perfect one as we approach it with its snow-coated ravines. As we round the point, the eruptive force of this vent of a much larger 'shield volcano' is apparent – the caldera is shattered on one side to allow the magma flow to escape. This expedition is called the Magnificent Volcanoes of the Aleutians, and Korovin is truly magnificent. The sun is setting behind the volcano – it must be spectacular at sunrise in clear conditions – which wouldn't be very often. A quick scan of images returned in a Google search indicates that there aren't many photos of Korovin taken from the sea. 
Tomorrow is another unplanned visit – in addition to the scheduled sea day en route to Dutch Harbor, we will be visiting and possibly landing on the island of Chuginadak, the Island of Four Mountains. Our adventurous Captain has decided that he wants to investigate the island given that he has plenty of time up his sleeve to get to Dutch Harbor.