Early arrival at Hong Kong international – landed at 6:50am, flopped on bed at Novotel Citygate by 8am. The weather isn't great today, and after I drag myself out of the hotel, it simply gets worse – grey, overcast, windy and raining on and off.
For some mad reason I decide to take the Ngong Ping 360 cable car, which is right outside the hotel.  It takes 35 minutes each way, with the promise of seeing the giant Buddha at the top of the mountain. By the time I'm halfway across the bay in a cable car in driving rain and wind, I know I've made a terrible mistake. The strength of the winds have me contemplating whether it will be better to have the cable car fall into the bay (and fill with water through the open mesh), or plummet into the forest below. By the time the cable car is approaching the summit, it is a complete white-out – you can barely see the other cars on the wire, and the Buddha certainly isn't home for visitors.
By the time I'm nearly back down to the terminal, the weather over the bay has improved to the point where at least the airport is visible.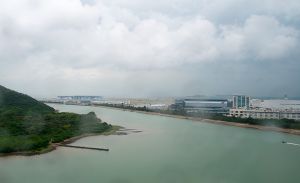 The Novotel Citygate is quite a good hotel – very busy, but it's worth paying for a room on the Premier floors – they seem to be well sound-proofed and quiet. The views aren't too bad, and the major upside is the 5 mins by shuttle bus to the airport.
Saturday's weather isn't much better, so I spend the afternoon waiting for my flight in the cafe attached to the hotel, and napping in my room. Just as I'm leaving for the airport, the weather starts to improve, and there are signs of sunlight.
That's all for Arctic 2013 – the next blog will be based on Lord Howe Island in November 2013.